A Guide To Bracket Systems
27.01.2021
Fast-Form's bracket system can be fully erected by hand, without having to hire expensive machinery or cranes. They also remove the need for skilled labourers to erect them – our bracket systems are lightweight and easy to fit. The largest bracket we manufacture measures 1.8m in length and weighs 20kg, so they also meet the manual handling regulations. The smallest bracket system we manufacture is 150mm and just 1kg.
Using Bracket Systems for bases
Our bracket system is the fastest and easiest way to create bases, slabs, walls, sheet pile capping beams and more. They come in varying heights and can pour anything including straight, radius, single or double-sided pours.
The bracket system can be fixed in a number of different ways. If you are looking to install the system into concrete, then raw bolts are fine, or alternatively, you can fix the bracket system down using road pins into earth or wood screws onto decking. We have a choice of 2 different bases depending on how they will be fixed.
Anything is possible as our brackets bolt together easily to form any type or shape of pour. With both standard corners and flexi-corners available, the possibilities are endless!
Pour bund walls and slabs in one monolithic pour, or use the brackets to prop standard timber or panel formwork. The brackets can also be used as an access platform – they are a very versatile system.
Using the Bracket System
You can create beams and walls up to almost 1.8m high with our bracket systems. They have no tie holes in them either, which means that your concrete walls won't need to be resealed to fill in the holes. Saving your construction team lots of time during the building process.
We have designed the Fast-Form bracket system, with simplicity and speed in mind. All you need to do is start by fixing the bracket down, 18mm back from the pour line. Then just plumb up and screw on the ply from behind and pour the concrete. It really is that simple!
Additional benefits
Our unique bracket system can form straight or radius angles without the need for additional materials. They can be easily bolted together to form complex shapes including slabs with plinths, or for sheet pile capping beams. Another use for our bracket systems is by combining them with our H20 beams for a cost-effective way to cast beams.
In order to encourage safe working practices, our bracket systems can also be fitted with access, handrails and toe boards if required. A safe, fast to erect system that also conforms to the HSE working at height regulations.
Bracket System quick installation guide
We manufacture two types of bracket, depending on whether they are going to be fixed to concrete or earth / hardcore:
1. Standard brackets
These are fixed to concrete with reusable, self-tapping concrete bolts or to plywood with wood screws. They can also be bolted together to form complex shaped pours.
2. Pin brace brackets
These can be pinned down to either earth or hardcore with road form pins. Pin brace brackets are multifunctional so can also be fixed down to concrete and plywood too.
Once you have chosen the correct bracket for your project, our team are always on hand to help guide you through the installation process. However, here is a quick guide to get you started:
Mark a line along where you intend to carry out the concrete pour, and drill holes at required centres.
Fix all of the brackets and adjust them to the line.
If you are wanting a beam configuration, repeat the process on the opposite side.
Screw on the plywood from behind.
Add stop-ends.
For slabs, simply follow the above steps around the concrete pour.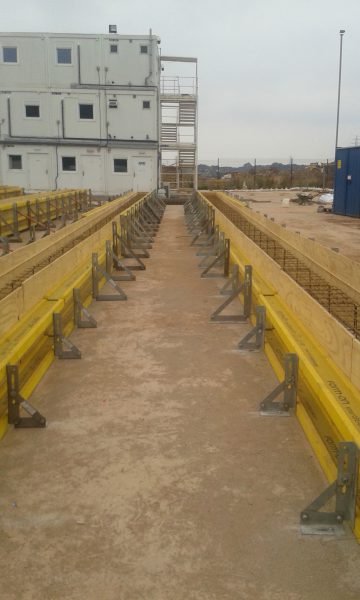 For more information on the correct fixing details for the material you are using, please contact us directly for assistance.
We hope you have found this guide to bracket systems useful. If you would like any further information please email our expert team – info@fastformsystems.co.uk.