Formwork Hire Service – Fast-Form Systems' Guide
03.09.2020
What is Formwork?
Let's start with the basics. Formwork is usually a temporary mould in which concrete or similar building materials are poured into – on rare occasions it is permanent. A lot of industrial infrastructure is made from reinforced concrete. Traditionally formwork is made from timber or steel, and the surface in contact with the concrete is chosen to give the desired finish, usually a plywood or metal surface. The formwork, and the associated propping must be strong enough to support the force and weight of wet concrete.
Types of Formwork
There are several different types of formwork: base formwork, wall formwork, column formwork, panel formwork, sheet pile capping formwork and road forms, which are used for small slab pours and road edges. Then there is Falsework or Decking formwork, which is a horizontal formwork for floors and slabs. Which one you choose depends on the job that you are working on.
Base formwork is generally used in the foundations of a building, pile caps and slabs. Wall formwork consists of vertically arranged upright formwork, typically faced with a plywood and there are numerous grades that are dependent on the required finish. Column formwork is mainly found in multi-story structures and buildings, and consists of square or round formwork that help form these supporting structures.
Panel formwork is ideal for repetitive pours of concrete as it is a larger formwork system for use on larger structures. Sheet pile capping beams are used in cofferdams and on flood prevention, coastal and marine applications and help cast concrete beams on to the top of sheet piles.

Finally road forms, which range in height from 100mm to 400mm, are used for slab pours and road edges. These are often a purchase item as they are used so regularly – Fast-Form has a patented road form design and keep a large stock for both sale or hire.
Formwork Specifications
When it comes to choosing formwork, the two main things that you need to consider are the type of concrete, and the temperature at which it will be poured. Both of these cause a build-up of pressure so the formwork needs to be able to withstand that. Also the finish required is important – Fast-Form Systems offers the best finish on the market.
The strength of the formwork is also something to consider as the base needs to resist the load of both the initial wet concrete, and the final weight of the dry, set concrete. So often, people make timber or traditional formwork with no structural calculations of the loads and the result is often a failure of the formwork which can be dangerous and costly.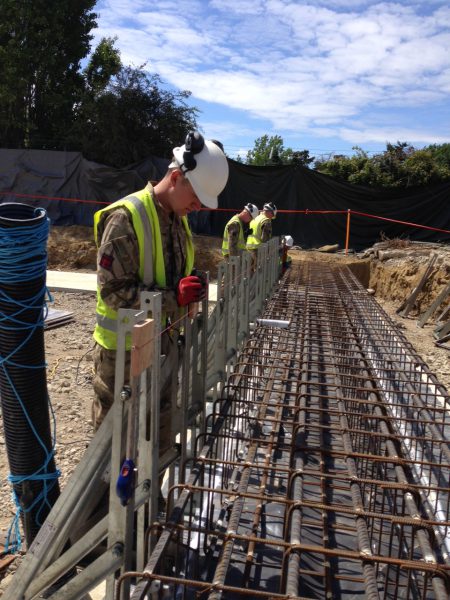 The Benefits of Formwork Hire
Rather than having to purchase formwork, Fast-Form Systems can provide the option of formwork hire for our customers. Many clients also purchase equipment and top up with hire equipment when required. The main advantage of formwork hire is financial, as there is no upfront initial investment. Here are some other benefits of hiring formwork:
1. Lower risk, increased safety
By choosing to hire your formwork from Fast-Form Systems, you rely on us to supply compliant equipment that is ready to use. All of our equipment is maintained to the highest standards and is regularly inspected by our staff. You can rest assured that the formwork equipment you receive will be the very best. It's designed to be able to cope with all the loads placed on it. There will be no structural failures and we do all the calculations and provide full colour 3D drawings as well. We also deliver and collect anywhere.
2. Low maintenance
One great thing about hiring equipment is that once you are done with it, you can send it back. You don't have to worry about how you are going to store it, or invest in the equipment to clean and repair the formwork.
3. High-quality equipment
With Fast-Form Systems, you can always rely on us to provide the highest quality formwork, no matter what. We are constantly innovating and using the latest technology to bring the best products to market that we can.
4. Competitive hire rates
As well as providing the best equipment possible, we do so at a competitive price. It is important to us that we find the right balance between rates and quality, and continue to serve our customers in the best possible way.
Fast-Form Systems has every type of formwork and falsework for sale or hire and also offer Bespoke Manufacturing, so whatever your needs we can design and supply the solution you need. If you would like any more information about our formwork hire service, please email our team at info@fastformsystems.com or give us a call on 01472 488230.